Posted by Tony Galante
Now we have all seen the so-called "guides to spring training," the aforementioned travel packages, the hot spots, where to eat, what to do.  We get it.  Everyone goes to Lenny's for breakfast.  Tremendous.  There's one of the nicest beaches in all of American right nearby. 
You know what the difference is between Clearwater Beach and Sea Isle City?  You can watch the sun set over the water instead of watching it rise.  That's it.  There are amusement parks nearby?!?  Really? 
So, do yourself a favor.  Check out some of the places you won't necessarily find on your typical Spring Training To Do lists.
My personal favorite, and long time of favorite of the heart and soul of our Phillies, Harry Kalas, is the dog track.  Derby Lanes, located about twenty minutes away from Bright House Field.  These greyhound races last mere seconds but remain one of the most exciting events to wtiness.  And who doesn't love a little gambling?  Shortly after Harry the K passed, his son recounted their final visit to Derby Lanes.   After having a not so great night, "We'll go get them another night," Todd told his father.  "No, I think this is last time I come out to Derby Lane," Harry replied. 
For those of you who are "morally opposed" to the whole idea of dog racing, I am sure you can go and there and adopt one or something.  They also have Poker upstairs.  Derby Lanes can singlehandedly finance an entire Spring Training Trip.  Just remember, put a line on the longshot and bet the favorites in a quinella and you are set. 
All along the beach there are literally hundreds of bars and night clubs.  Now, I prefer any of the dozens of dive bars where you can sit down, smoke a cigarette (INDOORS?!?!?) and pay a reasonable price for a beer and a shot. 
However, since it's vacation.  Let's go all out.  Shephard's Beach Resort, or, "The Paris Hilton Night Club" as I like to refer to it, is by far (and sadly) the fanciest place I've ever been to.  If the name did not give it away, it is located right on the beach. 
Leave the jerseys at home for this one.  Although, while jerseys are not allowed, they will allow a mustard stained plain white tee that you were wearing under the jersey, so you know.  Shephard's also is home to the single most expensive hotel rates that I have ever seen.  You've been warned.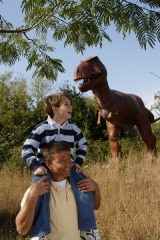 Courtesy www.dinosaurworld.com
Dinosaur World.  While I have not actually made it inside, as they were closed by the time we got there.  The entrance alone features a life size replica of a brontosaurus with it's leg lifted slightly off the ground.  See what you do here is you lay down and then slide your head under it's foot while your friends take one of the most hilarious pictures ever!  I mean, come on now, a dinosaur STEPPING ON YOUR HEAD?!?!?   Does it get any better than that?
Next up, for all of you John Candy fans, Scully's Boardwalk Restaurant.  "You got my table but you're not getting my lobsters! MY LOBSTERS!!"  Scully's is located at 190 Johns Pass Boardwalk in Madeira Beach, FL.  Not terribly close but not all that far either, especially if you are as big a fan of Summer Rental as I am.  Now, if you have never seen Summer Rental, go rent it, download it, whatever, then you can come back and finish reading this.  The rest of the boardwalk is a good time.  Elvis impersonators with the thinnest white pants you'll ever see.  And, if you still have any money left from the dog track, there are gambling boats leaving the pier for a fun filled night out on the water.
If you are looking for some early afternoon activities there is mini golf, featuring LIVE alligators and a thrilling scavenger hunt.  There are strip malls galore.  It is always fun to see other town's Targets and the subtle differences.  You can go to the Original Hooters or check out Pete and Shorty's. 
There's a Chipotle nearby, which isn't as exciting since they have now made their way north.  However, back six-seven years ago, it was a real treat.  I recommend, when on vacation, only eat at places that don't exist back home.  Think about if you were visiting Philadelphia and instead of going to Chickies and Petes you went to Bennigans.  Same idea. 
You can always just grab beer at the gas station and spend some time in your luxurious motel.  The soda bottle rum and cokes are also encouraged for any family friendly activities you may choose to partake in.  They are also good for the walk to the ballpark.
And of course, sure, there's the tiki bar at the ballpark which stays open long past the final out.  Keep an eye for LA and his tray of Jager.  There is Busch Gardens nearby, Disney only a few hours away, etc etc etc.  If you are still stuck and looking for more to do find yourself one of those cheesy tourist pamphlet stands.  Typically almost always found in the hotel room lobbies you just never know what else you might find.
Did I leave off your favorite off the beat and path stop?  Fill me in!  While I go every year and like to believe I have seen everything there is to see I am always looking for new and (not so) exciting and bizarre things to do after the game ends and before the hangover kicks in.