Posted by Danielle Wilson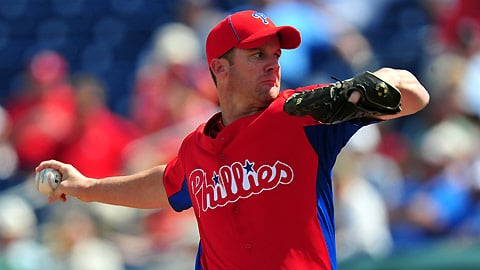 Photo courtesy of Phillies.com
Monday, February 28, Phillies beat the BlueJays 6-3.
First off, all Polanco does is (expletive) hit. The man is destined to reach 300 hits this season. Dom Brown on the other hand, needs to work out some things. As of Monday, Dom was 0-9 with 6 strikeouts. Not good, but there is absolutely no need to panic. Start to panic when Dom is 0-90 with 76 strikeouts by the end of March, and no, I'm not implying that he will put up those stats!
Back to Monday's game, Roy Halladay pitched 2 scoreless innings, which is what everyone expected. Shane hit his first ball of the spring, an infield single. Carlos Ruiz came in handy with an a 2-run double, and fled to Panama afterwards (surprise, his wife was going into labor!)
Here's an interesting bit, pitching prospect J.C. Ramirez struck out 3 in 2 innings pitched, and his fastball reached 95 M.P.H. Huh. So the Phillies won 6-3 and the Blue Jays posted 3 errors, yippee!
Tuesday, March 1, Phillies lose to the Tigers 2-6.
Cliff Lee started this game in the most unpredictable way possible, he hit the first batter he faced. Cliff Lee faced 842 batters in the 2010 season and only hit 1. Wow-zers. He lasted 2 innings, giving up a walk, a 2-run homerun, and struck out 3 batters. Dom Brown in this game struck out twice, and went 0-3.
Like I said, don't start turning your attention to Ben Francisco yet, neither of them have gotten word on who will be starting in right field just yet. Mike Zagurski, Dan Meyer, and Danys Baez (say what?) all pitched 1 scoreless inning. Kyle Kendrick pitched 2 scoreless after Lee, but Eddie Bonine allowed 4 earned runs in 2 innings pitched. Jeff Larish and Brian Schneider both smacked 2 hits, while J-Roll, Shane, Delwyn Young, John Mayberry, and Cesar Hernandez all hit 1. Everybody hits! Especially the Tigers, because they defeated us 6-2.
Wednesday, March 2, Phillies lose to the Orioles 5-6.
Roy Oswalt finally has a turn on the mound! Little Roy pitched 2 innings, allowing just 1 earned run. Lidge took the mound right after, and also took the loss. Brad pitched for only 1 innings, but allowed 3 hits and 1 earned run. Here's a twist: Dom Brown did not start in this game, my guess is that Charlie just wants him to relax for a bit. Brian Bass and Justin De Fratus allowed 3 hits each, and here's what JDF had to say after the game via Twitter:
JustinDeFratus: "It's been 2 outings everyone. Its gonna be ok. No need to panic. My confidence hasn't gone anywhere." Someone has some sense.
More about Chooch and his wife: she had a cesarean section done because the baby was "placed awkwardly" and weighed 8 pounds. Carlos has another child with a different woman, he is 8 years old and his name is Carlos Jr. His newborn is also named Carlos. Weird.
Back to the game though, Ryan Howard hit an RBI double in the first, bringing Raul home, and Delwyn Young hit an RBI single in the eighth. In the ninth, Pete Orr scored on a wild pitch, then Michael Martinez and John Mayberry both went yard, back to back, but the Phillies did not win that battle and lost 5-6.
The next three games will be as followed; away against the RedSox on March 3rd, away against the Pirates on the 4th, and home against the Pirates on the 5th.