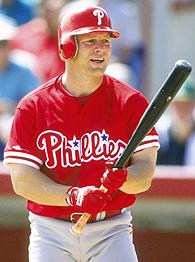 Source: ESPN Sports
Lenny Dykstra is again in the news, and no one is surprised.
According to the New York Post, the Los Angeles Police Department is investigating Nails for an alleged naked massage request.
Dykstra, who was accepting applications for a housekeeper, asked for a massage and began stripping for the 47 year old applicant (or victim). She immediately left Dykstra' home, reported the incident to police, and hired an attorney to process her claims.
I guess the fraud and bankruptcy headlines weren't enough for Lenny, who was only hoping for a "happy ending" to his recent troubles.