Posted by Frank Klose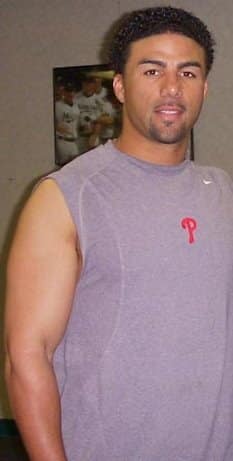 Courtesy baseball.dailyskew.com
The Phillies' bullpen picture became a little blurrier this evening when J.C. Romero left the game clutching his calf in the 7th inning of the Phillies loss to the Brewers Monday night.   David Hale of the Wilmington News Journal reported Tuesday morning that Romero will likely hit the disabled list.
So, in Romero's absence, what options exist?
Vance Worley
Worley was a servicable spot-starter and reliever for the Phillies in 2010, going 1-1 with a 1.38 ERA in two starts and three relief appearances.   While not a left-hander, Worley could help fill the role of long-man, since most of the bullpen was used Monday night.  Worley has two starts under his belt at AAA Lehigh Valley, where he is 1-1 with a 2.25 ERA.
Mike Zagurski
Zagurski is a left-handed option in the Phillies bullpen who has been on the Phillies' roster before.  So far in AAA Lehigh Valley, Zagurski has pitched 3 1/3 innings and not given up any runs.  If the Phillies insist on a left-hander, Zagurski is the only other option on the 40 man roster.  Juan Perez is in AAA Lehigh Valley, but would require 40-man roster space.  Perez has a 3.00 ERA (one earned run in three innings).
Michael Stutes
Stutes caught the eye of Phillies brass in Spring Training.  He has a power arm and a tough personality.   This would be an opportunity to give him a taste of the big leagues while Romero is out.  So far at AAA Lehigh Valley Stutes has a 2.70 ERA and a 2-1 record, accounting for three of the 10 pitching decisions for the Iron Pigs thus far.
Scott Mathieson
Matheison  has been long on the recovery trail and a member of the 40 man roster.  Mathieson last pitched for the Phillies in 2006 before undergoing multiple Tommy John surgeries.  After a strong outing on Monday, Mathieson also has a 2.70 ERA with a 0-0 record in 6 2/3 innings thus far in the early going for the Lehigh Valley Iron Pigs.
Jason Grilli
Grilli is a longshot at this point, because he is not on the 40-man roster, but has performed well thus far for the IronPigs.  In five appearances the righty is 1-0 with a 1.93 ERA.  Grilli is a year removed from surgery, and the Phils may wish to keep him at AAA to show more before calling him up to the big leauges.
Michael Schwimer
Schwimer is a righty not yet on the 40-man roster, and has pitched to a 1.50 ERA this far for the AAA Lehigh Valley IronPigs.  For a short-term stay, displacing a roster from the 40-man may not make sense, but Schwimer is worth keeping an eye on for later on in the season.
All in all, I tend to think Worley has the inside edge given his success with the Phillies last season and due to Antonio Bastardo's early success with the big club this season.  Zagurski may also get strong consideration.