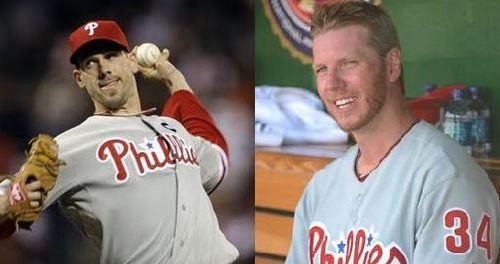 I'll start this post off by saying that we are extremely lucky to have both Cliff Lee and Roy Halladay in our beloved city. Both of these guys play the game exactly how it should be played, with determination, focus, and class. They lead by example on the field, and it shows.
Coke or Pepsi? Ginger or Mary Ann? Jack or Sawyer? Boxers or briefs?
Cliff or Roy?
Debates like this are always fun, especially when we're not really forced to make a decision, because neither of them are going anywhere anytime soon. But if you had to choose one, who do you love more?
Cliff Lee is like the girl who came into your life one day and you became great friends with. You didn't know much about her, but once she started coming around, you realized that she was something special. Cliff was the "second choice" when Ruben Amaro seeked an ace at the trade deadline in 2009, and many were happy with the deal that brought him over, but always wondered what it would have been like to have Roy Halladay as our ace instead. So we moved forward and gave Cliff a shot. He was dazzling in his first start, throwing a complete game and striking out six Giants' batters. He even contributed with the bat, collecting two hits in the game. It was almost immediate that Phillies fans realized that this guy was special. He could do it all.
Following the 2009 season, and a World Series performance that none of us will soon forget, Cliff would be traded to make financial room for Roy Halladay. Ruben was able to make the deal to bring in Doc, and he pulled the trigger as he didn't think a long-term deal with Cliff could be made. The same day that Halladay was brought in, Cliff was traded to Seattle for prospects. It was a bittersweet feeling.
This past December, Cliff was a free agent and deciding who to sign and spend his foreseeable future with. The Rangers and Yankees made their pitches for him, with the Yankees of course offering the most money. On December 14th 2010, Cliff left money on the table in New York to come play with the Phillies. Even though it was our fault for breaking up with him in the first place, he was the bigger man and took us back. He turned down our rival in New York because he wanted to play in Philadelphia again. He missed us. We missed him. It was the perfect happy ending. All we felt was elation.
Roy Halladay is the supermodel. He's the one you'd see on the cover magazines, or in the latest movie and think, "Man, if I could ever have a shot with one girl, it'd be her."
He's the one that everyone wants to date during high school. He is the popular girl that the guys would line up for if she ever became single. Well, after the 2009 season, it looked like Roy would be breaking up (although with class of course) with the Toronto Blue Jays. Thankfully, Ruben was at the front of the line and the Blue Jays accepted the trade offer that included prospects..
Doc came to this team as a proven winner. He was, and arguably still is the best pitcher in baseball. He had won his first Cy Young award with the Blue Jays in 2003, and of course his most recent just last year in his first season in the National League. He gave us such chilling memories as a perfect game on May 29th, only the 20th perfect game in Major League history. On top of that, he threw only the second playoff no-hitter in history on October 6th. He is a workhorse, our ace among aces, and we're lucky to be able to call him our own.
So that's the debate. Who do you love more? Both hold the key to the city, as well as our hearts, right now. But who is your guy? Is it Cliff, the one who got away but took us back, despite how foolish we were for dumping him in the first place? Or is it Roy, who is our dream girl that became a reality, dating us because of our great personality?
Who do you love? Comment below and let the debate begin.