Posted by Danielle Wilson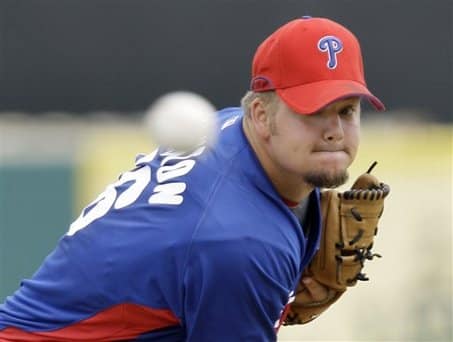 Photo courtesy of Pennlive.com
Today, February 27th, the Phillies played at home against the Yankees (yes, again) and this game was not a victorious one for the Phils. Joe Blanton started this game against Yankees' starter Ivan Nova, and out of the two, I'd say Joe Blanton put on a better show. After Joe allowed a walk on four pitches to Brett Gardner, he got Nick Swisher to ground into a double play, then struck out Curtis Granderson on three pitches. The Phillies went down in order (Rollins, Victorino, Ibanez) on three groundouts in the same inning.
After that walk to Brett Gardner, Joe retired the next eight batters. The first Phillie on base was Wilson Valdez after a single in the third, but Rollins flied out afterwards to end the inning.
Justin De Fratus was put on the mound in the fourth inning, and was roughed up a bit. After a 4-pitch walk to Gardner, Curtis Granderson hit a 2-run homerun to give the Yankees a 2-0 lead. In the fifth inning, Justin got off easy with a ground out, another ground out, and a fly out.
Dellin Betances was put on the mound for the Yankees in the fifth inning, and had me squinting at my MLB Gameday screen. He struck out Dom Brown (Dom actually struck out swinging a total of 3 times this afternoon), Wilson Valdez, and Ben Francisco on 9 pitches. Holy hell.
Now it's the sixth inning and here comes young pitching prospect Michael Schwimer. Brett Gardner doubled to lead off the inning. Nick Swisher played copycat and sent Brett home with an RBI double. After a Ryan Howard fielding error, Jordan Parraz (pinch-running for Swisher) stole third, and Curtis Granderson reached first. Jorge Posada then hit an RBI double. Montero singled, and Daniel Brewer (pinch-runner for Grandy) scored. The inning ended on a double play by Eduardo Nunez. Again, holy hell.
You know what the Phillies did in the sixth inning? Not nearly as much as the Yankees. Victorino walked then stole second, but it was a wasted steal after Howard struck out. There's your sixth inning.
Madson was in for the seventh, and retired the side on a strikeout, fly out, and ground out. Alas, the Phillies score in this inning! Carlos Rivero was placed as Polanco's pinch-runner after Adam Warren walked him, and then…Francisco doubled and Rivero scored! Finally! But that was all the Phillies would do in that inning.
J.C. Romero pitched a strong eighth inning, despite the fact that he gave up a single to Mesa, but that was fine and dandy because Mesa was caught stealing afterwards. No offense for the Phils in the eighth.
Brad Lidge time in the ninth, and it was not very pretty. After giving up a homerun to Vazquez, Brad his Gustavo Molina. Strikeout, ground out, single on a Freddy Galvis error, and then another ground out.
The Yankees were winning 7-1 at this point, but that was about to change (spoiler alert, the Phillies still lose!) Buddy Carlyle was on the mound for the Yanks, and after giving up a single to Delwyn Young, Ben Francisco, Big Ben, hit a 2-run homerun to make it a 4-run game. Erik Kratz who replaced Carlos Ruiz then grounded out and the game was over, 7-3 Yankees.
There's your re-cap. Maybe it doesn't matter because it's just a spring training game, but hey, it's still Baseball! Next game is tomorrow against the Blue Jays at Grant Park in Dunedin.