Posted by Christina Angelos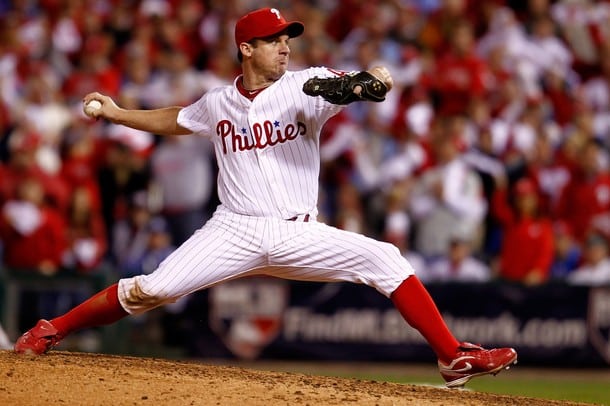 Courtesy of gcobb.com

Roy Oswalt pitched very solid even with giving up two runs but the bullpen could not hold it as the Phillies lost to the Marlins.
Roy Oswalt left in the seventh inning with apparent lower back strain. We do not know how bad it is as of right now.  However, he appeared to injured himself after bunting and getting on first base in the sixth inning. He then grabbed the left side of his lower back. 
 On the top of the seventh inning, he was taken out before he threw a pitch. J.C Romero walked a batter. He relieved by Danny Baez, who gave up two hits and a walk. Then here comes former Phillie Greg Dobbs. That did not help. Dobbs singled in two runs as the Marlins took the lead, 4-3. Charlie Manuel gave the ball to Bastardo and did not give up a run or hit to keep the Phillies within a run. Ryan Madson and Jose Contreras pitched scoreless innings.
In his six innings of work, Oswalt allowed two runs on four hits, and also struck out six. He retired 12 of the first 13 Marlins he faced. He didn't give up a hit until Logan Morrison hit the first pitch of the fifth inning for a solo homer.
The Phillies drop to 9-4 on the season, one game ahead of Florida. Game 2 is set for Saturday night at 7:05 if it does not rain. The pitching matchup is Cole Hamels against Anibal Sanchez. 
 Final Score: Marlins 4 Phillies 3
Update: According to ToddZolecki twitter, Oswalt said he had back spasms. Said it's unrelated to previous back problems. Said he hopes to make next start. "I think I'll make it."