Posted by Christina Angelos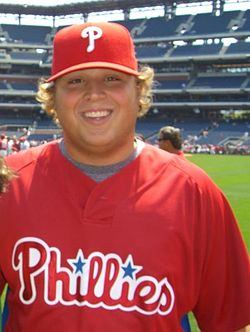 courtesy of Phillies.com
As expected, Phillies LHP J.C Romero was placed on the 15 day disabled list with right calf strain. Romero suffered a right calf strain in the ninth inning of last night's loss to Brew Crew. This marks the third straight season for Romero to be placed on the DL. He is set to have an MRI on Tuesday to determine the extent of the injury and he also said he is hopeful that he can be ready within 15 days. 
Phillies recalled Mike Zagurski from Triple A Leigh Valley to take his place as a left hander pitcher in the bullpen.  Zagurski, is 1-0 with 0.00 with a save in three appearances for the IronPigs. He has only allowed two hits and struck out seven in 3 1/2 innings. 
However, left hander Antonio Bastardo, will most likely take the lead role of pitching in close games. He has work 6 2/3 scoreless innings in six appearances while striking out nine and walking three.
Welcome back to the Bigs, Big Z!!