Posted by Stephen Gallo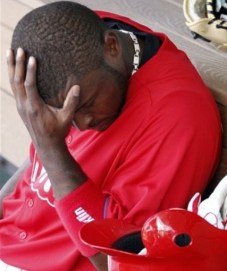 Image Courtesy nbchardballtalk.com
The above picture was taken on the day Castillo was cut. If you ask me, they should have let him shower or at least leave the dugout first. Goodbye fair prince.
When the Phillies first signed Luis Castillo, it was a surprise to us all. We weren't quite sure how to react to the fact that our beloved Phillies had picked up a player from the Mets scrap heap. After all, if he wasn't good enough for the Mets, then how could he be an impact player here?
In only seven spring training games, Castillo went 6 for 22 and batted at a .367 clip for our Phillies. He did exactly what we wanted him to do, and that was set the table for our 3-4-5 hitters in a lineup that demanded a quality #2 hitter. I can't even pronounce the name of our current #2 hitter.
As you may have guessed it, all six of Castillo's hits were singles. He knew exactly what the team needed from him and set out to provide exactly that, and not an ounce more. What a smart player.
Luis Castillo would have been a Phillies legend, had the club not cut him on that cloud covered day back on March 30th. He was chasing Phillies history, and unfortunately, we'll never know just how close he could have got in his quest.
Back in 1887, Ed Delahanty batted a measly .410, and still stands as the single season Phillies batting champion. Well, you can rest in peace, Ed, because thanks to Ruben and company, Luis Castillo will not be breaking your record any time soon. Rumor has it; Ruben Amaro has Ed Delahanty on his all-time fantasy team, and couldn't bear to see his batting record broken. By not returning my calls, Ruben made it apparent that he was not available to comment.
The Phillies announced today that they will wear a #3 patch on their uniforms, just above the belly button, from now until the end of the season, to commemorate the great Luis Castillo and the heart, soul, and determination he showed for this team. This team needed a great 2nd baseman, a franchise player that could be the face of the franchise and lead us to a World Series.
Luis Castillo was that man, if only for 9 days.
Thank you, Luis.